Overview
This article describes how to create a Manual arrival for a Member.
The article is divided into the following seven topics:
Prerequisites
Role
Scope
Use case
Navigation
Branch level
Create a manual arrival
Prerequisites
Role
All Roles permit Staff members to create Manual arrivals.
Scope
You must have a Role in the Branch you wish to create a Manual arrival.
For more information on Roles, click here.
For more information on Permissions, click here.
Use case
An Arrival is an automatic timestamp created each time a Member enters the gym.
Unlike Visits, an Arrival is lodged every time the Member uses their Access card or FOB.
A Manual arrival is used if the Member is unable to use their Access card or FOB to gain access to the gym.
A Pop-up window is displayed each time an Arrival is lodged:
The Pop-up window provides information you may need to know as the Member arrives.
It notifies if there is any reason the Member should be addressed by Staff members e.g. Overdue:
If for some reason the Arrival can not be created autonomously, a Manual arrival should be lodged.
Navigation
Manual arrivals are added at Branch level:
Branch level
To view or add Arrivals:
Navigate to Branch level (dark coloured menu)
Select a Branch (optional)

Click on Arrivals
All Arrivals within the selected Branch are listed, with the most recent at the top: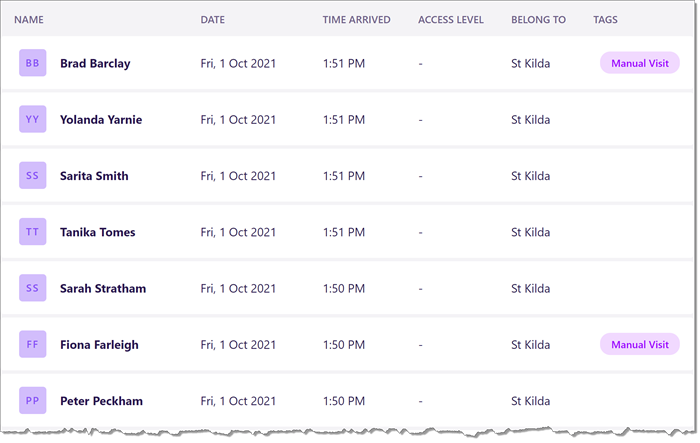 Create a manual arrival
To create a Manual arrival:
Click Add Arrival

Enter the Member's name or email address in the Name field
To enter a Member from another ranch, enter the Member's full name
For more information on searching, click here.

Note: A partial name or email address can be entered, however, it must be the beginning letters of the name or email address. You may also enter the beginning characters of the first and last name, separated by a space.

A list of Members that match your search criteria are displayed:

Click Add next to the Member you wish to manually arrive

A Pop-up window will be displayed:

A new Manual arrival will be lodged: