Overview
This article explains Permissions and their purpose within Clubware.
The article is divided into the following three topics:
What are permissions
How to view permissions
Organisation level
What are permissions
Permissions are rights or privileges that provide or restrict access to specific parts of Clubware. Permissions cannot be applied directly to Staff members, however, combinations of Permissions (called Roles) can be applied to Staff members.
The Permissions available are:
Permission
Description

Access to group operations

Yes - Staff members have access to Organisation level (light menu)
No - Staff members can only access Branch level (dark menu)

Assign role Admin

Staff members can give another Staff member an Admin Role

Assign role Master Franchiser

Staff members can give another Staff member a Master Franchiser Role

Assign role Franchisee

Staff members can give another Staff member a Franchisee Role

Assign role Branch Manager

Staff members can give another Staff member a Branch Manager Role

Assign role Receptionist

Staff members can give another Staff member a Receptionist Role

Assign role PT

Staff members can give another Staff member a PT Role

Assign role Trade

Staff members can give another Staff member a Trade Role

Manage sessions

Staff members can add, modify or remove a Session

Manage member

Staff members can add, modify or remove a Member

Manage membership

Staff members can add, modify or remove a Membership

Manage classes

Staff members can add, modify or remove a Class

Manage staff member

Staff members can add, modify or remove a Staff member

Manage membership plan

Staff members can add, modify or remove a Membership plan

Manage payment option

Staff members can add, modify or remove a Payment option

Manage correspondence

Staff members can add or remove Automated rules for SMS

Manage branch group

Staff members can add or modify a Branch group

Manage product

Staff members can add or modify a Product

Manage product price

Staff members can add or modify Product prices

Manage sale

Staff members can make Product sales at the Point-of-sale screen

Change application settings

Staff members can add or modify Permissions granted within Roles

Bulk transfer

Staff members can generate Transfer lists and Bulk Transfer Members from one Branch to another

Run report

Staff members can run Reports

Send ad hoc SMS

Staff members can send an individual Member an SMS (Text) message

View members

Staff members can view the Members screen

View arrivals

Staff members can view the Arrivals screen

View membership plans

Staff members can view the Membership plan screen

View reports

Staff members can view the Reports screen

View staff members

Staff members can view the Staff member screen

View products

Staff members can view the Products screen
How to view permissions
Permissions are viewed at Organisation level:
Organisation level
To view Permissions:
Navigate to the Organisation level (light coloured menu)
Click on Management
Click on Roles setup

The Roles are displayed in alphabetical order, showing many Staff members are assigned each Role: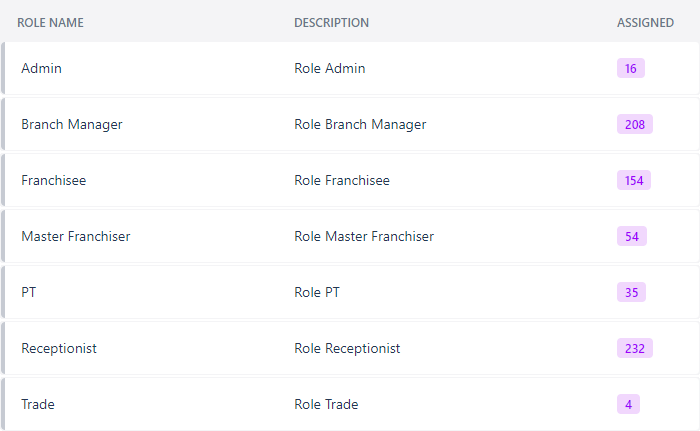 Click on the Role you wish to view Permissions for:
The Permissions for the Role are displayed: